SEO Testimonials
Search Engine Optimization, no matter how you slice it, is built on 2 main things; Relevance and Popularity. Sure, there are 198 other factors according to Google such as Domain Age, Thematic Websites, Bounce Back rate, HTML Semantics, etc...

However, the two (2) most critical things have remained unchanged, Relevance and Popularity.
Relevance
Relevance is based on a couple of things. The meta data and the content. The meta data was created to help Search Engines catalogue pages. It was based on the Index Card schema. This requires the proper use of the meta data as an accurate summary of the page. This however has been abused and used to stuff keywords. At

Link

Helpers

, we believe in presenting Search Engines will properly formed and accurate meta data. Guess what? It works.

Content Optimization is another thing. We have noticed a huge change in Google's efforts to weed out word stuffing. Which we believe is great. You can almost barf at the way many sites overly stuff their pages with their keywords.

Content Optimization is a science. How so? We have taken the pains to do a massive statistical study that took us 3 months to complete. Using advanced statistical modeling, we have divined the Logarithmic curve that accurately describes relevance. Not just to Google, but to Bing, Yahoo, Ask and many more Search Engines. Using our tools, optimized content actually reads well and is content you can be proud of. We write compelling prose designed to draw the viewers in.


Popularity
Popularity is a funny thing. When Google started, it was based on a dissertation by Larry Page on the democratic web. It was a major departure from how websites were ranked where Link Popularity played a major factor in ranking websites. As far as weighted factors, popularity trumped relevance so much so that it was once possible to rank a site that had no relevance using shear link popularity.

The problem with this paradigm was that many sites were ranked for high keyword traffic with absolutely no relevance. Additionally the belief that people will drill through sites looking what they searched didn't work. Bounce Back rates (when a user clicks the back button) were hovering at 70%+. Hence the major shift with algorithm updates like, Panda, Penguin and Hummingbird.

The goal was to clean up the mess of the past and start fresh with a relevance based algorithm. And it worked. The bounce back rate has dropped to about 50% as more relevant results are served up. However, whether we like it or not link popularity plays a major factor in ranking sites. It just has to be done right.


See What our Clients say about Us
Creative Carpet Repair :: Manual Penalty Revoked in 1 Week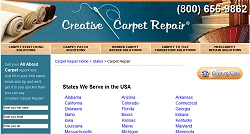 Steve Gordon & Elisabeth Donati


Owners :: Creative Carpet Repair »
Phone :: (805) 698-2838



Restored in 1 Week :: July 16, 2014


Manual Penalty :: revoked
Panda :: low quality content replaced with unique quality pages
Penguin :: Impact Links removed

11 Months Later June 16, 2015



website




click through traffic

This site has over:
50 Top 10 Rankings

History

John Barlow presented us with an interesting challenge, sell Reverse Mortgages online. You can't watch late night TV without seeing 1 of 3 commercials selling Reverse Mortgages.

We took the time to understand the target market and determined that the age demographic was not always tech savvy and prefers human contact. Additionally their eyesight tends to be failing. This demographic does not tend to do business online, preferring a personal connection.

Based on these premises we designed and developed a website to appeal to Cobalt's target market. We used large fonts, made the contact phone number large and simplified the forms. We also presented images of people living in the solution rather than presenting the problem. We also targeted cities since our premise was a need for personal contact.

We released the site on Tuesday, April 22, 2014. With our superior mathematically based optimization we started popping up on the first page for the vast majority of the cities we targeted. With work on their popularity metrics, we kept their rankings after the "Google Grace", which tends to rank new content artificially higher.

Within a month's time, we started showing up in the top 5 for the vast majority of keywords we worked on. Over time, we expect this site to dominate the Reverse Mortgage online business.


Testimonial

Thursday, June 12, 2014

I began working with

Link

Helpers

because they were referred by a friend of mine who I trusted. Although my friend was in another industry, he said

Link

Helpers

had helped his business increase substantially. My background in sales was mostly referral and I didn't know much about website development or SEO. The professionals at

Link

Helpers

were real patient with me and answered all my questions, even the dumb ones I have asked.

What's nice is that you can tell the folks at

Link

Helpers

your vision, what you want, and they help you translate that vision to a workable plan. Most importantly, make the phone ring. In our first month online, we were able to gain 3 new clients and rank on the first page for most of the cities we targeted. They explained that it would take a little longer than 1 month to rank number 1 for all the cities where we compete. But as of today, we have numerous 1st place listings for many of the cities we compete in. And they are working to get us to 1st place for all of them.

I would highly recommend the

Link

Helpers

team if you are looking to partner with someone that can make a big online difference for your business. I consider them one of my most important business partners.



John Barlow
Reverse Mortgage Division Manager
Cobalt Mortgage
Direct: (425) 974-6964
cobaltreverse.com


---




website




click through traffic

This site has over:
120 Top 10 Rankings

History

We met Juan through his wife Stephanie who provides us with house cleaning services. They had a website that was actually just a folder in some other person's website. It did not imbue the type of business they were trying hard to build.

We always start with a keyword analysis before we build any site. This tells us what pages we need and what content to write. We also took stock of the competition and the best domain name for them.

We built their site using a modern looking mega-menu and added a cross-sell bar. Focusing on conversion, we added everything a viewer needs to contact them on every page. After 3 months of Hummingbird style linking their thematic site screamed to the top. They now dominate the Seattle Janitorial Services market. This has changed their lives.


Testimonial

Friday, May 30, 2014

Before the website and

Link

Helpers

service, me and my team would be stuck to the phone all day trying to get customers. Now customers call us. The website is easy to use and looks professional. I am very happy with the massive boost this has given our business.



---




website




click through traffic

This site has over:
75 Top 10 Rankings

History

We were contacted by Sarah Russell to analyze their site. They had a new webmaster redesign their website and as a result lost all their rankings. All though the site looked great, it lacked optimization. We were given a ton of keywords they wanted to rank for and began optimizing existing pages and created new pages for the rest of their keywords. As a result of the site optimization, Above Alaska now dominates Flight Training searches for Alaska.


Testimonial

Wednesday, November 27, 2013

Since using

Link

Helpers

, traffic to our website and targeted web pages has increased. The staff who worked on our website were professional, dedicated to getting the job done in a timely manner, and were available at all times to answer our questions. They took the time to understand our company and business needs in order to successfully target the audience we were looking for. We are looking forward to a continued relationship.



Sarah Russell
Manager
Above Alaska Aviation, LLC
PO Box 821, Talkeetna, AK 99676
(907) 733-4808
abovealaska.com


---




website




click through traffic

This site has over:
350 Top 10 Rankings

History

When we looked at Greg's website, we found a huge mess. There was obvious sabotage and some self inflicted injury. He had massive links from third party sites with obscene anchor text. Massive links from a few domains that drove his Link Diversity Index through the roof. We did a massive link cleanup effort and got his Link Diversity Index down to acceptable levels.

We started a link building campaign to improve his Link Diversity Index and helped him build a more thematic website. This resulted in his site's recovery the first time. When Penguin 2.0 hit his site, we found massive links coming from his friends in Australia trying to help him. We got those taken down, as well as the mirror sites we uncovered.

When Penguin 2.1 hit, Greg's site actually benefited greatly from this due to the link cleanup work we had done as well as creating a huge thematic website. Today his site has over 350 top 10 keyword phrases and averages over 2,700 clicks a month.


Testimonial

Saturday, September 8, 2012



Link

Helpers

did exactly what they said they would do for my business, www.Beefjerky.com. They really did increase it's Google Ranking.

I have worked on Beefjerky.com since 1995 and have spent over $25,000 during that time on various methods of marketing and advertising. None of those methods worked, and none of those promises materialized.

With the premier domain name for beef jerky, the first decade of Google was kind to my business. Beefjerky.com always ranked as the # 1 return on Google, and on most of the other search engines, for nearly ten years. However, during the last 4 or 5 years, the site's ranking had slipped all the way down to #13 by mid-2012. My sales were seriously affected and I knew I had to do something to regain my Google rank.

I found

Link

Helpers

and was impressed by Steve Mapua's knowledge, intellect, and passion for what he does. The monthly fee for the work is reasonable, and after only 4 months of the 6 month contract, my site is back up in the top half of the returns on Google's first page, for the search term, "beef jerky".

It has always been easy to work with Steve and his crew. They communicate well and respond rapidly to questions and concerns.

If you have a site that needs SEO, and it does not sell beef jerky, then I highly recommend

Link

Helpers

to improve your website's Google rank.


Testimonial

Tuesday, August 27 2013

This is my second recommendation for the expert work done by

Link

Helpers

.

When Google rolled out its Panda Update 2.0 "upgrade" my site, Beefjerky.com, completely disappeared from the search results for the primary search term, "beef jerky". Prior to Google's change Beefjerky.com usually ranked in its top five results. While Google dropped my site, it was consistently ranking between #2 and #4 on Bing and Yahoo.



Link

Helpers

quickly developed a strategy to restore my site in the Google search results. As they implemented it over the next few months, Beefjerky.com reappeared in the results, rose up through the rankings, and now it is back on the first page of results, with good prospects to continue its rise into the top five results returned by Google.

I am very happy with the professional work done by

Link

Helpers

.


Testimonial

Tuesday, December 30, 2014

My company Beefjerky.com has worked with Steve Mapua and his team at LinkHelpers for two and a half years as our primary SEO consultant. I have from the start, always been very pleased with the results and will continue our business relationship. Steve has extensive knowledge of up-to-date SEO practices and accomplishes miracles.

Thank you Steve!